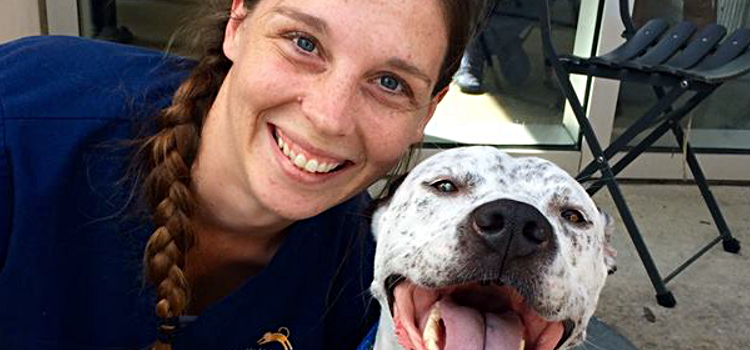 Jessaca Crawford
Dog Health Specialist
---
As a certified veterinary assistant and veterinary technician, Jessaca knows how to keep your dog it tip top physical and mental heath!
---
Justin Crawford
Dog Boarding Genius
---
Justin is consumed with all things D-O-G. He's got great training skills and has many strengths in understanding how to properly socialize dogs safely.
Bringing your pets to Dogs Day Away ensures they are in caring, capable hands. With more than 15 years of veterinary technician experience combined, Justin and Jessaca have a real passion for animals, and their well-being. Having dedicated their professional careers to working with dogs in jobs such as Board Kennel Manager, Certified Veterinary Assistant and Veterinary Technician, they have also invested their efforts in volunteering for the animals they love; serving for such groups as Love-A-Bull Rescue, PAWS Shelter & Humane Society, and Austin Animal Center for the last 5 years. Considering their pets family members themselves, Justin and Jessaca would love to welcome your "fur kids" into their family for as long as you need.
To further illustrate Justin's passion for animals and training, he has completed an internship with the Love-A-Bull Training Committee. He saw this as a very fortunate kick start to the pursuit of his professional training career. He and his dog Cynder are members of the Love-A-Bull Pit Crew Therapy Group, an award winning all Pit Bull and Pit Bull mix breed therapy dog program serving Austin, TX and the surrounding areas by educating the community about dog safety, humane care of animals, and the rewards of being kind. In October 2014 Justin had the amazing opportunity to travel across international boarders for 3 weeks to learn from Canadian based, MangoDogs trainer Ted Efthymiadis. While in Canada, Justin learned various methods of training that allows owners to communicate with their dogs in a way that dogs understand. Thus allowing for faster, more reliable training results and healthier relationships between owners and their beloved dogs.
Justin believes strongly that not every dog's training regimen can be exactly the same. Just as with people, all dogs learn differently. Therefore, he has made a commitment to learn various training techniques and tools that can be applied in different situations to provide the fastest, least stressful outcome for dog and owner alike. Justin and Jessaca combine their over all medical and behavior knowledge and passion for dogs to facilitate a fun and stress free experience for all guests at Dogs Day Away.